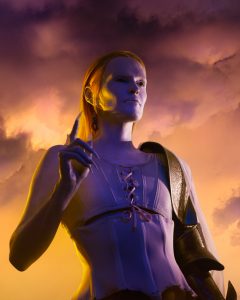 Photo: Johnny Valverde
Mataya Waldenberg is a mystic elf alien raised by human parents and reclaiming their true form through music – having come to planet Earth with the goal of empowering the practice of magical creation. This comes through interactive live performances, utilizing acts like marching, clapping and singing mantras together, that directly transport the audience into the elf alien's fantastical homeland, depicted in sonic landscapes – carried by Mataya's operatic elven voice and ethereal synthesizer sounds.
Their most recent project, the music album 'THE WORLD_SHE COMES', has been successfully funded and is in its late production stages. For more detailed information and progress updates, see here.